Soccer • 27 de February de 2015
Foreign investment in shirt sponsorship drives 20% increase in revenue of european clubs
In 2014, brand logo placement on shirts of the teams in the top six European soccer leagues generated a total of €687 million
Income from shirt brand logo placement among teams in Europe's six biggest soccer leagues reached a total of €687 million, which means an increase of over 20% last season against the previous, with foreign investment one of the main contributing factors to the rise. The figures were revealed by the IBOPE Repucom study "2014/15 Jersey Report," which provides an overview of sports sponsorship in the major soccer leagues of the continent.
Last season, the English Premier (36%) and Spanish (30%) leagues enjoyed the highest increase in revenue from such advertising. They were followed by the Italian (21%), French (13%) and German (9%) championships. Only the Dutch league experienced a decline, 5%, in shirt sponsorship revenue.
"The success of European soccer is no secret, and can be explained by the combination of the world's best players with prominent leagues, a well-organized fixture calendar, first-rate stadiums and global television exposure, both live and re-runs. All such factors add value to each game and, consequently, further stimulate the interest of fans and companies wishing to invest in this business," says José Colagrossi, director of IBOPE Repucom.
The Spanish League was the highest earner from foreign sponsorship: 86% of the total revenue from shirt brand logo placement came from outside the country. It was followed by the English Premier League (75%), the French (68%), Italian (47%), German (24%) and Dutch (19%) leagues.
Such revenue increases for these European clubs have been primarily due to overseas investment from the Middle East. In the last season alone, the United Arab Emirates and Qatar spent approximately €160 million sponsoring Europe's major league teams.
Income generated by shirt sponsorship per league: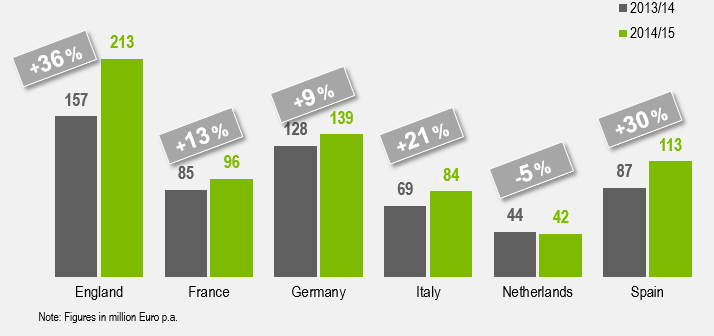 See also
Champions League: 63% of brazilian soccer super-fans are...
The Champions League group stage draws takes place today, Thursday (28th), and... [ See more ]
Foreign investment in shirt sponsorship drives 20% increase...
Income from shirt brand logo placement among teams in Europe's six biggest... [ See more ]
Angelina Jolie is the first international personality to...
The American actress Angelina Jolie is the most important international personality among... [ See more ]